Books
Owner's Manual
You can obtain an owner's manual from your local Suzuki dealership, though it often has to be special-ordered. The cost is approximately $16.
Or download a PDF version here (13 meg) http://www.fileden.com/files/2008/10/7/2133953/GS500-OwnerManual.pdf
Maintenance Manuals
Buying a maintenance manual is the best way to learn about the GS500. Its maintenance schedule, how-tos, and pictures will be invaluable to you throughout the ownership period.
Also note that some of these manuals only cover the bike through the 2002 model year. The carbs, fairing, forks, ignition control module, and wiring are all different and are currently not covered by aftermarket manuals.
Haynes Manual
The Haynes manual is generally regarded as easier to understand. It has fewer pages, is better organized, is easier to find information in, and has color wiring diagrams. Veteran GS500 owners share that they usually use the Haynes manual first, and most often. It is better suited for a novice or someone who doesn't plan to do the most difficult maintenance and restoration tasks, such as engine rebuilds.
There is newer edition of the Haynes manual covering model years 1989 through 2006 including the 'F' models. The ISBN number is 1844258815 (slightly older one covering 2006 is 9781844255979) and is available at (among other places) TheMotorBookStore.com. The latest is only $30 new on amazon at the moment.
Clymer Manual
The Clymer manual is a more detailed book. For very involved engine procedures, such as rebuiliding the engine, its depth of information will probably prove more useful than the Haynes manual. Its first chapter has no comparable section in the Haynes manual. Also, organization of information is less friendly to inexperienced mechanics, requiring lots of cross-referencing and lacking chapter sub-indices.
Purchase the manual through this link to help support GSTwins.com.
Factory Suzuki Manual
This manual is issued by Suzuki to their service mechanics and to the bike shops who supply the bikes. It's very similar to the Clymer, as its quite detailed, but not terribly easy to follow.
It is available as a spare part from Suzuki dealers as part number 99500-34068-01E. Some have found it for download online. Be aware that it is copyrighted and such downloads are not posted legally.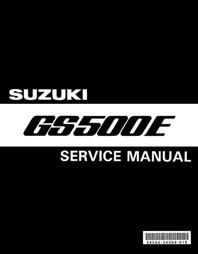 This is for the '89 - '99 bikes but the vast majority of information is still relevant for later model years.