Balu Racing Seat Cowl
A German Motoparts website that offers seat cowls for the GS:
http://www.balu-racing.de/motoparts/subkat.php?id=19&sid=bsv7agudp1ckih375cii638c40
Gimbel Seat and Tail
Wild Hair Accessories has tail and seat combos for the GS made by Gimbel (about halfway down the page):
http://www.whaccessories.com/GS500Accessories.htm
Airtech
TITAN4

Supersport Tail

Airtech makes a tail section for the GS that replaces the side plastics and covers the passenger seat (about halfway down the page:

http://www.airtech-streamlining.com/suzuz/GS500Titan.htm
eBay and For Sale Section on the Forum
You never know what a search on eBay will turn up or a browse through the For Sale section here on the forum.
R1 Tail Swap
R1 plastics
this mod requires the gs subframe to be altered to fit the plastics and seat(modded by iceman oz)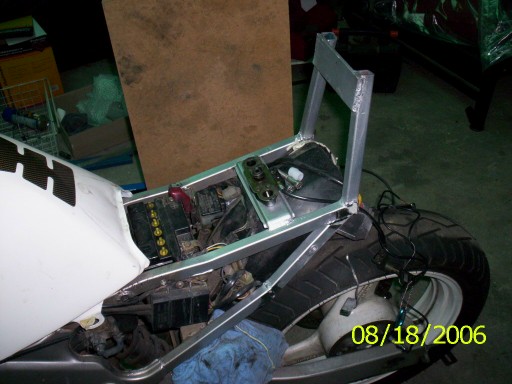 (modded by iceman oz)
another r1 plastics
GSXR SRAD Tail Swap
The thread can be found here but the picture links are broken: http://gstwins.com/gsboard/index.php?topic=27240.0
Bear in mind the SRAD seat unit is from a very large bike and looks very large on the gs. :d
For this mod the complete GSXR SRAD subframe was used (although it can be acheived by modifying the gs's subframe) This step by step was done using the SRAD aluminum subframe.
Step 1 Remove all the fairing and electrical gear out of the way
Step 2 Remove gs under tray
Step 3 (The fun part) out with precision tool number 1 and cut that gs sub frame away. At the top it ended up I cut 50mm
from the center of the tank mounting bolts and at the bottom 230mm from the engine side of the frame (it was the only place I could get a consistant measurement from)
Step 4 Drill the 4 10mm mounting holes
Step 5 Mount srad subframe
Step 6 Was mount under tray and the rear half of the sub frame.
Step 7 Mount rear brake light and reroute all electrics,
Step 8 Cut a slot in the under side of the seat pad plastic so the fat gs battery would fit
Step 9 Paint the fairings and cowl
and finally
Step 10 Put the seat fairings ect on the bike
Custom Tails and Cowls
There are many examples of custom rear ends done to the GS on google. The possibilities are nearly endless with time and experimenting!